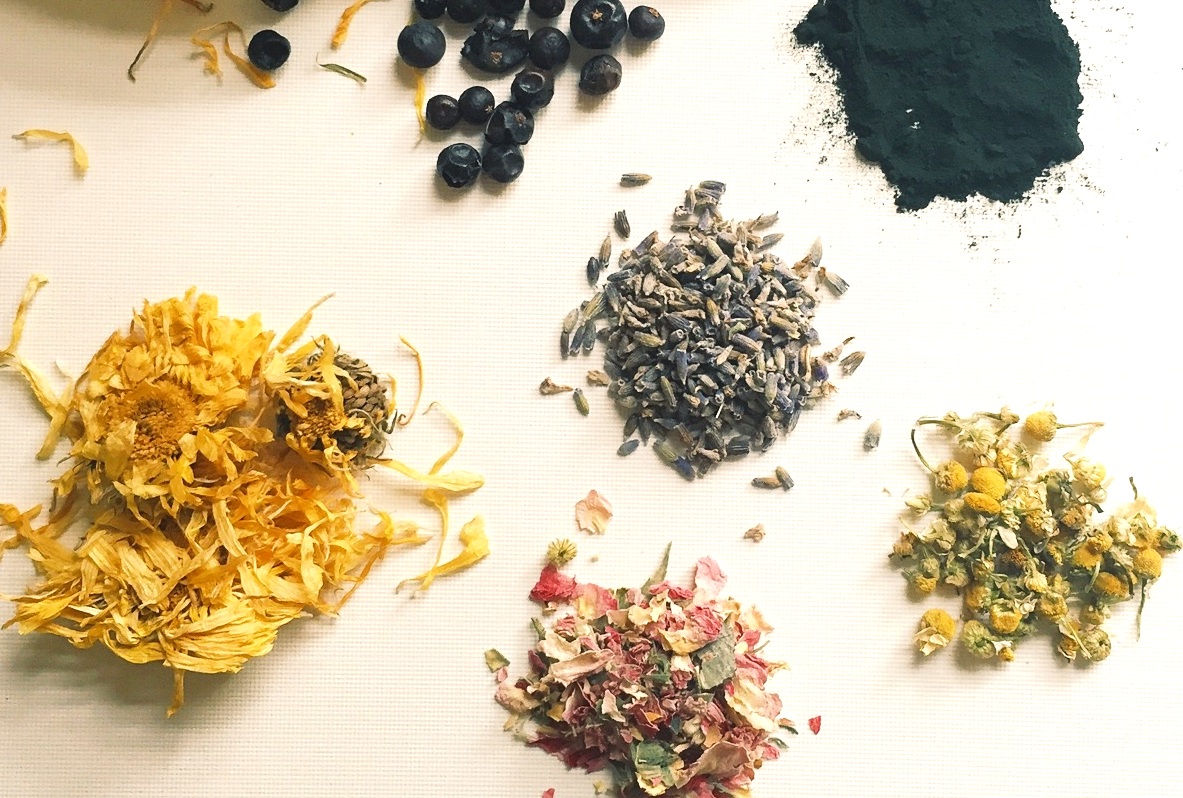 Kore Herbals uses local, organic and sustainable ingredients whenever possible. You will never see artificial preservatives or chemicals in our ingredient lists.
INGREDIENT INDEX
Aloe - (Aloe vera) a stemless succulent with thick, fleshy green leaves. Moisturizing, hydrating, anti-irritant, stimulates skin healing, Vitamins C and E, rejuvenates skin cells.
Beeswax - (Cera alba) is a natural wax produced by honey bees. Beeswax is used to solidify certain oil-based cosmetic products. The beeswax used in our products is local to the Pacific Northwest and ethically sourced from happy bees by their keepers.
Carrier oil - also known as base oil or vegetable oil, is used as primary oil to blend other ingredients for safe and emulsifying topical use.
Crystal essence- hydro-infusion of crystal energetics transferred by water and light. When exposed to lunar or solar light, the healing vibrations crystals fuse to water molecules, imprinting and preserving it for use.
Dandelion- (Taraxacum) an herbaceous perennial known as a medicinal and edible herb. Topically soothes acne, flushes toxins, reduces water retention and essentially vitamin-rich.
Essential oil- a natural, fragrant plant oil typically obtained by distillation. Used in aromatherapy as well as scenting products.
Flower essence- herbal infusions or decoctions, made from the flowering part of the plant, which uniquely address emotional and mental aspects of wellness. Flower essences are energetic imprints of the life force of plants which interact with these subtle bodies of the human being, and evoke specific qualities within us. We can say that they work in a similar way to inspirational music or art, which carry meaning through the vehicle of sound or light, while the flower essences work through the medium of water. (Reference page here)
Himalayan Pink Salt - Is a therapeutic rock salt that is believed to be the purest form of salt available. It helps with nutrient absorption, cleansing the body from impurities and toxins and increases circulation.
Hydrosol- also known as floral waters, hydroflorates, or distillates are products from steam distilling plant materials. Moisturizing, uplifting and penetrating.
Juniper- ( Juniperus communis) of the cypress family. Antiviral, antiseptic, stimulating compounds, aphrodisiac, and rich in Vitamin C.
Kukui oil- (Aleurites moluccana) a Hawaiian tree bearing seeds or nuts which can be pressed into a moisturizing oil, full of vitamins, antioxidants and fatty acids.
Lavender- (Lavandula) an herbaceous perennial in the mint family. Antiseptic, anti-inflammatory, calming, anti-fungal, increases cell growth, healing, contains surface oil making it naturally astringent.
Pearl powder- Fresh or saltwater pearls milled into a fine powder. Used by Chinese royalty internally and externally for skin benefits. Increases collagen production, anti-inflammatory, full of amino acids, minerals and calcium.
Rose- (Rosaceae) a woody perennial with fragrant flowers. Suitable for all skin types, astringent and tonic properties, alleviates redness and high in vitamin C and zinc.
Rose clay- an iron-rich mineral also known as kaolin. Balancing, gentle, mildly astringent.
Silt- a sediment from inland bodies of water. Absorbent, anti-acne, skin-conditioning.
Sunflower Petals -(Helianthus annuus ) Sunflowers absorb many nutrients from the sun and are high in vitamins such as Vitmain B and D. These flowers are said to have been used for over 3,000 years by Native American cultures for rituals, medicine and food.
Vitamin E- fat-soluble nutrient found in many foods. In the body, it acts as an antioxidant, helping to protect cells from the damage caused by free radicals. Also used as a natural preservative.
Yarrow- (Achillea millefolium) an herbaceous perennial containing salicylic acid, tannins and bitters. Highly astringent, anti-inflammatory and hematic; helping to clot blood from minor wounds, and stimulates cell regeneration.